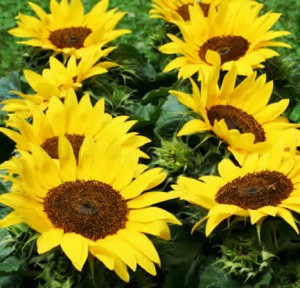 Introduction to Qi and Seasonal Change
Under Traditional Chinese Medicine, energy (Qi) permeates throughout the universe. Qi is composed of two opposing forces—Yin and Yang. The changes in Yin and Yang affect everything, most visible being the changes in the seasons. Humans are also affected by the energy change. Therefore, an individual's energy changes in harmony with the seasonal changes of energy. Every season's energy has a different characteristic: spring is growth, summer is peak, fall is decline, and winter is hibernation. In order to stay healthy, one must adapt to and respect the characteristics of the energy in each season.
First Section: How to Stay Healthy During the Spring Equinox
This year, the Summer Solstice occurs on June 21th, 2009. On this day of the year, the length of daylight is the longest in the year. At this time, a person's energy is at its peak. Dr. Wu will demonstrate meditation methods to harmonize your body with the peaking summer energy and to protect yourself from ailments.
Second Section: Food and Nourishing Soups
Various herbal porridges, soups, and teas will help fortify your body during this time period. Dr. Andrew Wu will introduce what is ideal for your body in the spring. A tasting of various soups and porridges will follow.
Date: Sunday, June 21st, 2009
Times:
Chinese Language Section
1:30 PM Registration
2:00 PM First Section
2:45 PM Second Section
3:15 PM Food and Soup Tasting
3:30 PM Questions and Answers
English Language Section
4:00 PM Registration
4:30 PM First Section
5:15 PM Second Section
5:45 PM Food and Soup Tasting
6:00 PM Questions and Answers
Fee: $10 per person
RSVP: Please RSVP by 6/20/09 by phone at
(408) 257-3767 or by e-mail at drwu@drandrewwu.com
Directions: Exit 280 at De Anza Blvd. Make a right at Mariani Ave. Make a left at the second parking lot.
如何保持健康和預防疾病
傳統中醫認為人和宇宙天地能量的變化是同步的。隨著季節性能量的變動,人體的能量變化與一年四季變化和諧,「春生、夏長、秋收、冬藏」。此時,人們如果不相應調整本身的「衣食住行」,將會損害他們的能量並引發疾病。
第一部分: 簡介天人合一與中醫太極季節養生
夏氣通於心,夏至前後屬於心氣升發的階段。在夏季期間人體的能量陽氣由內向外發揚布陳,吳醫師將詳細解說如何養心固护陽氣。夏至前後季節性能量變化如何會影響到人的能量。同時也將介紹天人合一太極共振扶正靜坐及自我按摩保健心氣陰陽協調。
第二部分: 中醫食補和湯補
中醫食補和湯補。將介紹各種各樣的食物,例如粥、湯和茶,在春天將能滋補您的身體,並且對您的陽氣升發,肝臟陰陽和調有很大幫助。隨後有中醫養生湯和粥的品嚐。
日期: 星期天, 2009年06月21日
時間: 華語部分
1:30 PM 註冊
2:00 PM 第一部分
2:45 PM 第二部分
3:15 PM 品嘗中醫藥膳湯和粥
3:30 PM 回答問題
英語部分
4:00 PM 註冊
4:30 PM 第一部分
5:15 PM 第二部分
5:45 PM 品嘗中醫藥膳湯和粥
6:00 PM 回答問題
費用: $10
預約報名: 06/20/09前請電 (408) 257-3767 或上網 drwu@drandrewwu.com
方向:280在De Anza Blvd. 的出口。在Mariani Ave. 右轉。在第二個停車場左轉。